National Symbols
National Symbols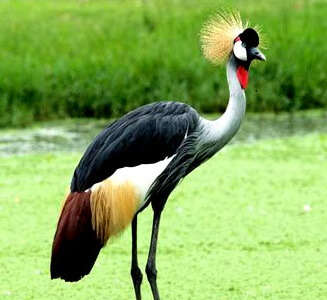 National Bird of Uganda
The Crested Crane is the national bird of the African Nation of Uganda. It appears on their flag and their coat of arms and can be found abundantly near the country's many lakes and rivers that create fertile marshes rich with wildlife.
Uganda is abundant with the kind of wet, flat marsh and grassland these birds love, and the bird has become a symbol closely tied to the nation of Uganda.
The coat of arms of Uganda was adopted three weeks before the proclamation of independence by the Uganda Legislative Council. On 1 October 1962 the arms were approved by Governor of Uganda Walter Coutts, and formally established by law on 9 October.
The shield and spears represent the willingness of the Ugandan people to defend their country. There are three images on the shield: those on top represent the waves of Lake Victoria and Lake Albert; the sun in the centre represents the many days of brilliant sunshine Uganda enjoys; and the traditional drum at the bottom is symbolic of dancing, and the summoning of people to meetings and ceremony.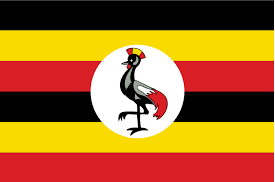 What is the meaning of the Uganda flag?
The flag of Uganda (Ugandan Languages: Bendera ya Uganda) was adopted on 9 October 1962, the date that Uganda became independent from the British Empire. It consists of six equal horizontal bands of black (top), yellow, red, black, yellow, and red (bottom); a white disc is superimposed at the centre and depicts the national symbol, a grey crowned crane, facing the hoist side
The three colours are representative of African peoples (black), Africa's sunshine (yellow), and African brotherhood (red being the colour of blood, through which all Africans are connected). The flag was designed by the Ugandan Minister of Justice, Grace Ibingira.